Quest To Be The Best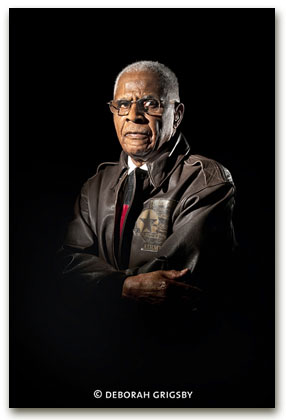 The true story of the Tuskegee Airmen is far broader than one of just aviation and the first American Black Military Pilots and Crewmen to serve during WWII. Their story and contributions were not recognized for decades, until the 1995 HBO movie release "The Tuskegee Airmen" presented their inspiring story of unwavering human spirit, courage and enduring determination. The Quest To Be The Best. Not only could black men become pilots, but they were arguably the most skilled aviators of World War II.
Since the film's release there has been a wide misunderstanding that all Tuskegee Airmen flew pursuit and escort missions in Red-Tailed P-51 Mustangs in WWII. Not the case. Only a fraction of these airmen actually flew fighter aircraft, including the P-40, P-47 and P-39. The vast majority of Tuskegee Airmen were assigned to other duties such as ground personnel, nurses, mechanics and instructors. Many also served in the 477th Bombardment Group as navigators, bombardiers, pilots and co-pilots on the B-25 Mitchell.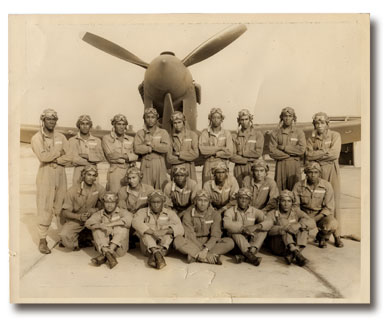 Lt. Col. James H. Harvey's graduating class.

Likewise, after the 1986 Hollywood release "Top Gun," there has been a wide misconception that this country's first Top Gun Program was developed by the Navy in the 1980's, competing in F-14 Tomcats. Again, not the case. In fact, the military's first "Top Gun" gunnery meet originated decades before and was established by the newly formed Unites States Air Force. What is also virtually unknown, is that Tuskegee Airmen, Captain Alva Temple, 1st Lieutenant Harry Stewart, 1st Lieutenant James H Harvey III and alternate pilot Halbert Alexander, competing in their P-47N Thunderbolts, would go on to win the USAF very "First Top Gun" Weapons Meet (also known as "William Tell" and "Gunsmoke") in May of 1949, at what would later become Nellis AFB. Accolades go to our Maintenance Personnel, because without them the missions could not have been flown with success. They were the Best in the USAF. A special thank you is extended to my aircraft crew chief (then Staff Sergeant) Buford Johnson.

It would be Lt. Col Harvey's natural abilities as a top aviator that would later distinguish him as the military's "First Black" Jet Fighter Pilot to fly missions over Korean Airspace. This website will present the inspiring story of James H Harvey III, the Tuskegee Airmen and the First Top Gun competition along with pages of aviation history and related links. This is the only source available to purchase collectible items commemorating the Tuskegee Airmen and their victory at the 1949 USAF Top Gun weapons meet. We welcome you to "Tuskegee Top Gun."

for more on Tuskegee Top Gun

Website Award
Our Website has been recognized for being a Renowned and Patriotic Military Resource!