General Benjamin O. Davis Jr. USAF (Ret)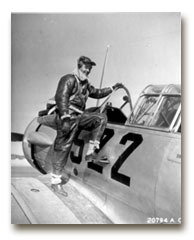 General Davis's father, Benjamin O. Sr. was a General in the Army who instilled in his son the virtues of hard work, self-discipline and self respect. Davis graduated from West Point in 1936. He was 35th in a class of 276 after four years of the silent treatment where no one talked to him, he ate by himself, he had a room by himself and he swam by himself. After graduation he tried to enter the Army Air Corp but was rejected because there were no plans to accept Negros.
President Franklin Delano Roosevelt wrote a Directive creating the First Negro Flying Squadron (99th) with Benjamin O. Davis Jr. as the Commander. Colonel Davis subsequently became the Commander of the famous 332nd Fighter Group that escorted over 200 Bomber Missions over Europe while establishing a record that will never be equalled.
The United States Air Force held it's "First Ever" Weapons Meet (also known as William Tell) in May 1949 at Las Vegas Air Force Base (Nellis). The primary members of the 332nd Fighter Group Team were, Captain Alva Temple, 1st Lieutenant James H Harvey III, 1st Lieutenant Harry Stewart and alternate pilot 1st Lieutenant Halbert Alexander. We met with Colonel Davis prior to our departure from Lockbourne Air Force Base for Nellis Air Force Base and his final comment was, "If you don't Win, Don't come back" (tongue in cheek). That was our incentive to win the Meet.
It was my honor and a great privilege to have served under Colonel Benjamin O. Davis Jr.